Design and Manufacturing IP for USB-C/PD IC/ASICs
IQonIC Works offers a range of options for developing and integrating USB-C/PD functions on your next IC/ASIC product.
USB-C/PD IP
Soft IP of Digital blocks
Analog IP schematics
Firmware
Hard Macros
GDS of pre-integrated IC solutions for your manufacture as standalone devices or multi-die packaged solutions (SIP)
Finished IC. Unbranded, packaged and tested ICs to OEM.
Applications
Source-only port
Sink-only port
Full DRP port
Accessory support
Debug support
VCONN powered accessory or VCONN powered device
Combination of any or all of the above
Flexible Licensing Options
Project based, Term, or Perpetual Licenses
Single Project or Multi-Project
Single Technology or Multi-Project/Multi-Technology
Manufacturing License options (GDS IP)
IP Platform
IQonIC Works offers a library of modular IP building blocks supporting a wide range of application specific solutions, including pre-integrated IQonIC Works configurations and customer own integrations.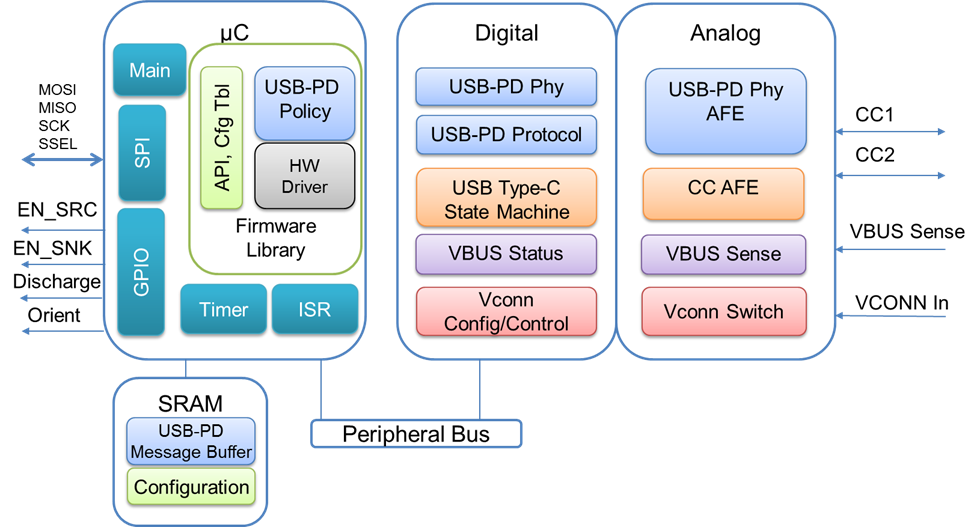 IQonIC Works USB-C/PD IP
USB-PD functions and protocol layer implementations are available both in HW and in FW, offering a wide range of application specific integration options, including:
HW only. All Type-C/PD and application functions in hardware.

Embedded CPU dedicated to the USB-C/PD functions. PD stack upper layers implemented in firmware, All lower level PD and Type-C functions in hardware.

Sharing an applications CPU for the USB-C/PD firmware and a USB-C/PD hardware block as a peripheral to the shared CPU.

Deliverables and Supporting Services
IQonIC Works provides the following deliverables in support of customer USB-C/PD needs, and can also supply a range of additional supporting IP blocks:
Deliverables

Related IP:

Detailed data sheet and integration guide

Synthesizable Verilog RTL source code

FW source code

ASIC synthesis constraints

FPGA development board with analog mezzanine card

Complete USB-PD analog IP in GDSII, including analog PHY

UVM based verification environment and test cases

Design guide, programming user manual, and verification guide

Communications IP

SPI master and SPI slave controllers
I2C master and I2C & I3C  slave controllers
UART controller
General purpose I/O (GPIO) controller

Watchdog and sleep timers
ADC
Regulators and Bandgaps
RISC-V MCU

RISC-V CPU processor cores
RISC-V core platform and IP, timer and platform-level interrupt controller, and other IP

8051 MCU

8051 CPU core
8051 core platform and IP, optional timer and port peripherals, APB or AHB bridge for memory-mapped I/O, debug controller accessed via a JTAG TAP for in-system debug, and optional DSP co-processor for signal processing applications

ARM Cortex-Mx class CPU cores, core platforms and related IP.

Add-on IP:

ARM CryptoCell-312 IP to support Authentication
Application specific AFE and control, e.g. BC1.2/QC, custom AFE for moisture detection and killer protection
DMAC if required by firmware
NVM (eFlash) or ROM for firmware
Application specific digital I/O